Weigh-in
Homeowners, Tree trimmers, yard services, City and State vehicles deliver recyclable yard trimmings across our truck scale. We recycle over 90,000 tons of yard trimmings per year at our three Oahu facilities. That's equal to about 7,500 semi-truck loads per year, extending the life of our local landfills! In Hawaii, our land space is limited. We must protect and preserve by recycling.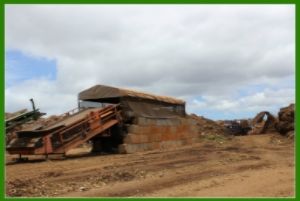 Tipping/Picking
Small and big trucks dump (tip) their loads for recycling. Loads must be cleaned of all plastics and other non-compostable materials. Below is the list for acceptable and non-acceptable materials:
Acceptable
Trees, Plants, Fruits, Grass, Branches, Logs (4FTx4FT), Leaves, Vegetables, Pulp, Seaweed, Grain, Landscape cuttings, Palm Fronds, Saw Dust, Pallets, Crates, Untreated Lumber, Shavings, Chips.
Not Acceptable
Metal, Plastic, Cans, Glass, Treated Wood, Household Trash, Styrofoam, Cardboard, Paper, Dirt, Rocks, Hazardous Materials, Ply Wood, Bikes, Press Wood, Bed, Car Parts, Furniture
The City and County of Honolulu is committed to recycling. Yard Trimmings are the only recyclables currently separately collected by the C&C at curbside. Plastic in the system means there will be plastic in the compost. As the city continues to work on curb-side collection of yard trimmings from homeowners, separation of plastics becomes an important issue. Our hard working picking crew separate all of the plastics and other rubbish from the greenwaste for grinding. Help Hawaii's environment! Please do not place any plastic bags in your green recycling bin!
Grinding
The yard trimmings are loaded into our grinder. We have 3 large grinders, a 1,000 Horsepower Hogzilla and 750 Horsepower Diamond Z, and a 1,250 Horsepower Diamond Z Horizontal Grinder. Our grinders can pulverize a log 10 feet in diameter (the size of a small car) into 3" shredded mulch. Awesome!
Linear Water System
Our watering system contains 42 nozzles across, they disburse water once a week or more depending on the temperature of the windrows.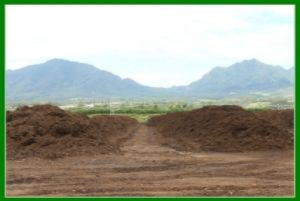 Windrowing
After grinding, the ground yard trimmings are placed in "windrows": piles about 8 feet wide, 10 feet high and 400-800 feet long. The piles are watered so they are kept moist. Composting is a controlled biological decomposition of organic matter. This decomposition is a result of microscopic organisms naturally present in leaf and yard trimmings. The process begins with mesophilic bacteria and fungi that work best at a temperature range from 50-105 F. They give off heat in the decomposition process and at a temperature range of 105-150 F a population of thermophilic (heat loving) micro-organisms take over the decomposition. Weed seeds and undesireable pathogens are killed when temperatures reach 135 F for a period of 3 days. At these high temperatures, there can be up to 10 billion beneficial micro-organisms per gram of debris. Menehune MAGIC™ Organic Soil Conditioner is fully composted yard trimmings. Our Organic Compost is a mixture of yard trimmings and vegetable/produce waste, which adds a little more nitrogen.
Turning Piles/Scarab
Piles are monitored daily for moisture and temperature. Temperature readings indicate when the pile needs to be turned to allow exposure to oxygen to keep the pile aerobic. Piles are turned by our Scarab every 3-7 days, depending on the temperature readings. As long as the piles are kept aerobic, there is no objectionable odor from the composting process. It is only when materials are allowed to go anaerobic (not exposed to oxygen) that the materials can smell very bad. From start to finish, it takes about 3 months for compost to be made. Composting is not high-tech. It goes on every day in nature, out in the forest and jungles as leaves fall from trees, decompose on the ground and enrich the soil.
Screening
When the Compost is ready, and the material is cured, it is screened through a 7/16" screen (or 1/4" for even finer materials) and ready for sale as compost or soil conditioner. The middle size materials (1/2"-2") are sold as Cover Mulch for flower beds and shrub hedges to retain moisture, discourage weed growth, prevent erosion and as a decorative cover.
Finished Material for Sale
Menehune MAGIC™ is then sold in bulk or bagged for convenience so that it can be sold at your favorite Garden Center, Nursery, or Home Improvement outlet. Call us at 682-5895 for the location nearest you.
Menehune MAGIC™ is sold in bulk at our three locations: 91-400 Malakole Street, Campbell Industrial Park, 65-1101 Wilikina Drive, Wahiawa, and 41-740 Mokulama St. Waimanalo, Oahu. A Cubic Yard sells for $35 and up, depending on the type of material or blend. Compost is blended in several standard mixes including screened top soil, black cinders and Washed sand, or it can be custom mixed to any specification. One cubic yard of compost or a blend will cover 300 square feet at 1 inch thick, or 150 square feet at 2 inches thick. Your type of use will dictate the thickness you would need. The University of Hawaii recommends 2 inches or more to be tilled in for new lawns. As a top dress over an existing lawn, you would use about 1/2 inch (covers 648 square feet).
The Finished Lawn
The result of using Menehune MAGIC™ is a beautiful lawn. Hear it from the professionals: John Wilkinson, Owner - Back to Eden Landscape Company/Past President - Landscape Industry Council of Hawaii: "Menehune MAGIC™ Organic Soil Amendments are a must for any landscaper that wants to stand out above the competition. We've been extremely satisfied, and so have our clients. With Menehune MAGIC™, we get excellent growth, weed retardant, no nitrogen draft, and ample water retention. Best of all, cost is lower than any of their competition. Can't go wrong with this product."